Back to top
News and Announcements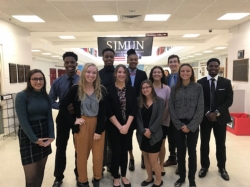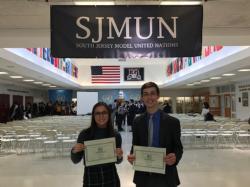 Winslow Township High School Model United Nations Club

Winslow Township High School Model UN Club Participates in the SJMUN Conference at Eastern High School
On Saturday, October 20, 2018, the Winslow Township High School Model United Nations Club (WINMUN) participated in the SJMUN Conference at Eastern High School, where they competed against other local schools, role playing delegates to the United Nations and simulating United Nations committees. This activity takes place at Model United Nations conferences, which are organized by a high school or college Model United Nations clubs. Participation in Model United Nations conferences involves substantial researching, public speaking, debating, and writing skills, as well as critical thinking, teamwork, and leadership abilities. At the end of most conferences, outstanding delegates in each committee are recognized and given an award certificate; the Best Delegate in each committee, however, receives a gavel.

​​​​​​​

The theme of the Conference was "The Effect of Time on the International Landscape". Committee topics were rooted in historical events still impacting the globe today. Delegates were introduced to critical issues, spanning a wide variety of fields, such as Family Planning and International Population Growth, Preventing Genocides and Other Crimes Against Humanity, Ensuring Border Security, Government Response to the International Economic Crisis, Obstructing the Further Spread of the HIV and AIDS Epidemics, Preventing Trade Wars, Preserving the Principles of the WTO, and Protecting Fair Trade, and Addressing the Successes and Failures of the 2018 Singapore Summit and Building a Framework for Further Cooperation. Student delegates prepared position papers as they researched their topic and country, created alliances with other "ambassadors", and wrote resolution papers and voted on proposed solutions to specific issues.
Congratulations to Eden Marose and Ryan Keane for earning "Best Novice Delegate" Awards from their respective committees! The next conference (TechMUN) will be held on November 17, 2018 at Camden County Technical School's Gloucester County Campus.